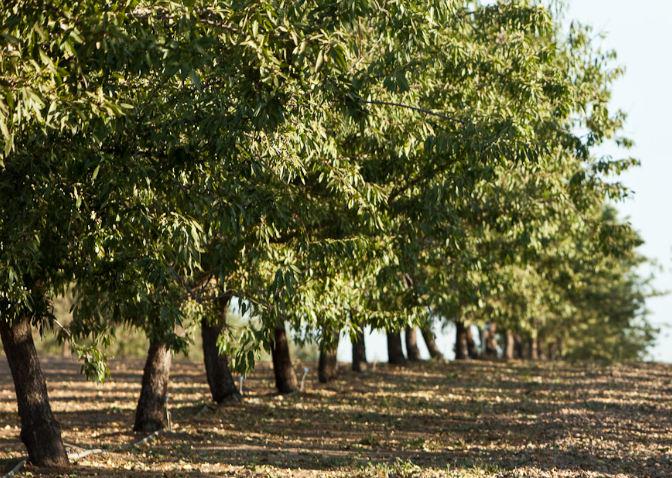 The Almond Board of California is keeping sharp focus on the strategic priorities that drive our industry forward and that fully embrace our leadership role in California agriculture.
The Board of Directors held a strategic retreat in February, 2016 to expand and add new capabilities and initiatives to the Board's programs. "Now is the time for our industry to accelerate ongoing efforts to embrace even more sustainable1 farming practices in response to the needs of our neighbors, customers and consumers. Our industry is uniquely poised to move quickly as a united community. Leading through change in our community is essential to our continued success, and is equally as important as our focus on aligning our marketing and public relations activities with increases in supply," said Mike Mason, Chairman of the Board of Directors.
The Board of Directors heard from experts in the fields of California environmental watershed research, food and consumer packaged goods trends, agricultural sustainability systems design, and the almond industry's only dedicated advocacy group, the Almond Hullers and Processors Association. Collectively, the panelists set the stage for the opportunities and challenges facing California agriculture, and almonds specifically, into the future. Speakers included:
The Board equally devoted time to expanding on the recently announced Accelerated Innovation Management (AIM) initiatives and to the market development needs of the industry. "It is clear to us that the expectation of transparency and the sustainable progress of almond farming are as important to consumers as the nutritional benefits of almonds. We must invest in our farming practices and systems and expand our dialog with customers around the world about all of the benefits of almonds – that they are nutritious and sustainable, and that our industry's actions align with our intentions," said Mark Jansen, Vice Chairman of the Board of Directors.
That's why the Almond Board continues to fund traditional production and environmental research programs that address a wide range of issues almond farmers deal with on a daily basis, from irrigation and honey bees to environmental stewardship and almond production. ABC invested $2.5 million this year in ongoing research, totaling $50 million over the past few decades. This objective, third-party research conducted by respected universities and other institutions fuels knowledge in the larger scientific community, brings value to the almond industry, improves our understanding of almonds and delivers key information to consumers. The long-standing research program has been accelerated with AIM, and is on the cusp of evolution which will result in broader multidisciplinary teams and projects that will align our research with our strategic focus.
"AIM will help growers meet the challenges associated with limited resources, environmental considerations and an evolving regulatory environment. And, it is through the AIM initiatives that the California Almond community will share its progress with consumers and continue to build trust. The industry faces several difficult issues, but they provide opportunities to demonstrate historical and future innovation on the farm, and also for dialogue with an increasingly interested and engaged public," said Richard Waycott, President and Chief Executive Officer of the Almond Board.
In growing one of California's largest acreage and most valuable crops, the California Almond community has earned a leadership role and, with that, assumed a great responsibility. By being proactive this community will continue to make almonds a crop of choice for California and Californians.
---
1 Sustainable almond farming utilizes production practices that are economically viable and are based upon scientific research, common sense and a respect for the environment, neighbors and employees. The result is a plentiful, nutritious, safe food product.