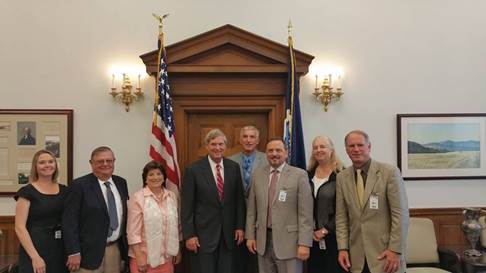 Click to enlargeCalifornia Almond growers, processors and Almond Board of California (ABC) staff visited Washington, DC this past week to participate in the U.S. Agricultural Export Development Council (USAEDC) conference and update government agencies on issues facing the almond industry.
As part of the trip, the delegation met with U.S. Agriculture Secretary Tom Vilsack to discuss the drought situation and its impact on the almond industry. The meeting provided an important opportunity to talk one-on-one with Secretary Vilsack about how the drought has affected almond production and to share the industry's proactive initiatives to address future sustainable1 production.
The delegation shared that growers in some parts of the Central Valley areas are impacted more than others, but overall almond growers continue to strive to meet demand for almonds while coping with water shortages in the fourth year of the California drought.
In addition, the group emphasized the importance of ABC research, often leveraging USDA funded research, to developing better water management practices. Other topics included the role USDA plays in honey bee health initiatives and in assisting in keeping trade markets open.
"The current drought in California impacts everyone, not just Californians" said Almond Board CEO Richard Waycott. "We appreciated the opportunity to talk with Secretary Tom Vilsack about water plans in California and share how almond growers are proactively addressing the key issues we face. The secretary encouraged us to think in terms of how our efforts in California could ultimately provide water management benefits to the whole country."
During the trip, the group met with various agencies within the United States Department of Agriculture (USDA), the Environmental Protection Agency (EPA), the Department of the Interior (DOI), and the Food and Drug Administration (FDA) to learn more about research programs important to improving irrigation and water management, and to have a dialogue with regulators on food safety and pesticide issues. ABC also hosted an educational briefing for legislative staffers on the California drought and the impact to the industry.
Almond Board of California is a non-profit organization that administers a grower-enacted Federal Marketing Order under USDA supervision. The Board promotes almonds through its research-based approach to all aspects of marketing, farming and production. The Board is not involved with advocating positions, but rather educates and reports on industry activities.
---
1 California Almond Sustainability Program definition: Sustainable almond farming utilizes production practices that are economically viable and are based upon scientific research, common sense and a respect for the environment, neighbors and employees. The result is a plentiful, nutritious, safe food product.