The Almond Board has developed a new infographic illustrating that, despite scrutiny of almonds during California's drought, almond trees actually require about the same amount of water as other fruit and nut trees across our state's various growing regions.
The fact is that California is one of only a few places on earth have Mediterranean climates ideal for growing almonds and more than 400 other crops – fruits, nuts, vegetables and many others. Like almonds, much of California's agricultural bounty grow almost nowhere else in the United States. According to the USDA, California produces 99% of the nation's almonds, artichokes, dates, figs, raisins, kiwifruit, olives, cling peaches, pistachios, dried plums, pomegranates, sweet rice, and walnuts. These specialty crops thrive in California's climate.1
Data from the University of California's Division of Agriculture and Natural Resources describes the water needed to productively grow fruit and nut trees across California's various growing regions and shows that almond trees, and the water needed to grow, them are in line with other California fruit and nut trees.2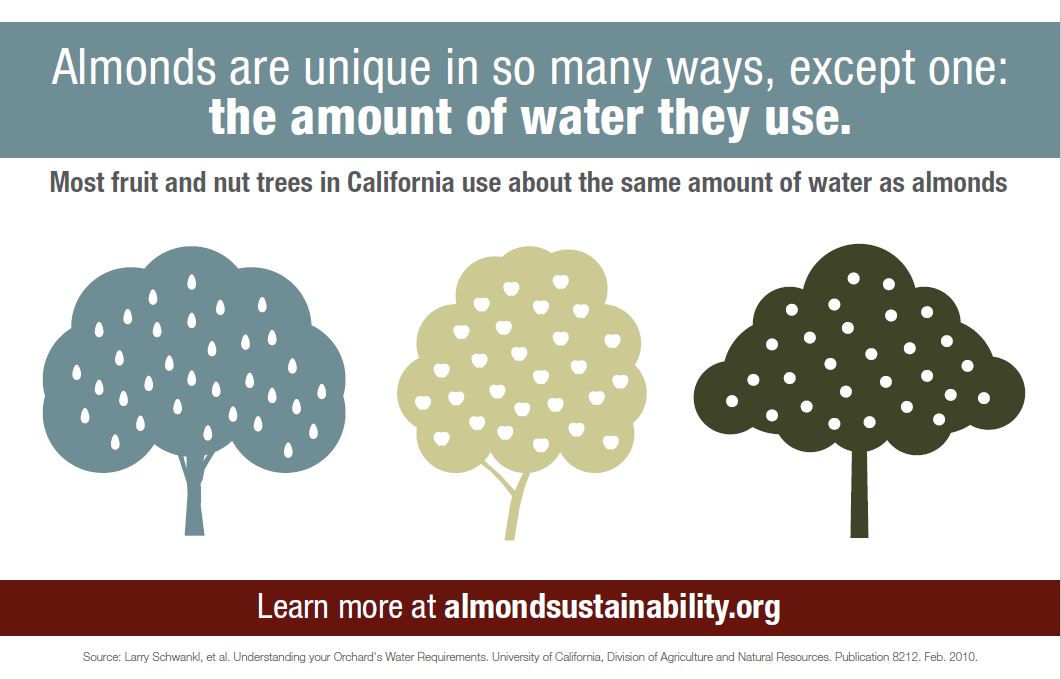 California Almond growers have a history of water efficiency. They were early adopters of water-saving micro-irrigation and other technologies that have helped them reduce the amount of water it takes to grow a pound of almonds by 33% since 1994.3 With continuing investment through the Almond Board of California's robust research programs, they're fueling the next round of innovation.
We encourage you to share the new graphic and other information about almonds and water on Facebook, Twitter, and in other ways to put the conversation about the water needed to grow food in context.
---
1 USDA-NASS. California Agricutural Statistics, Crop Year 2013. Apr. 2015.
2 Larry Schwankl, et al. Understanding your Orchard's Water Requirements. University of California, Division of Agriculture and Natural Resources. Publication 8212. Feb. 2010.
3 UC Drought Management – Historical Almond ET, see and Goldhamer, David. 2012. Almond in Group Yield Response to Water. FAO irrigation and Drainage Paper No. 65, P. Steduto, T.C. Hsiao, E. Fereres, and D. Raes, eds. Food and Agriculture Organization of the United Nations, Rome, Italy, pp. 246-296.