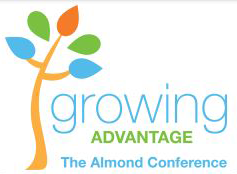 Many almond farmers welcome winter after a busy summer and fall harvest season. There is more time to network with fellow farmers and family and really savor the shorter days. And it's time for the annual Almond Conference.
This year, more than 3,500 California Almond community members came to Sacramento on Dec. 8-10 to learn from industry experts through diverse sessions on growing almonds, the environment, food safety and nutrition.
Stepping into the trade show is an eye-opening experience for anyone outside of the almond industry. This year there was almond harvesting equipment, a giant packaging tool that packs and wraps pallets of almonds, and even a robot that sorts almonds to ensure that every almond in that snack pack is perfect for enjoyment. With more than 240 exhibitors there was something for everyone, fledgling almond farmers and seasoned farmers alike.
The state of the industry always kicks off the Conference, but this year the session was marked with a spirit of resiliency as the industry aptly demonstrated in the face of challenges brought on by California's severe drought.
Almond farmers attend the Conference to learn the best and most innovative farming practices just like in any other profession. Professional development is essential to keeping up with trends, but also in exploring new and unusual ways of working. Almond farming is no different, and almond orchards come in all sizes with many different practices, but there are always innovative tools, practices and advancements in technology that can help growers and handlers be more sustainable1.
In that vein, the almond community kicked off the Almond Board's Accelerated Innovation Management (AIM) program at the Conference. This program is a major new strategic effort designed to make the California almond industry even more efficient and sustainable.
Because when it comes to innovation, there are a lot of options that almond growers could try. But instead of trial and error by each individual almond farmer, Almond Board of California will be a facilitator for testing and advising the industry on the best innovations and technology available.
One of the AIM initiatives focuses on Water Management and Efficiency. And since sustainability is about continuous improvement, there were three sessions for almond growers at every level of experience with the ultimate goal of transitioning to more efficient irrigation scheduling and management practices to get the most crop per drop of water.
Another way in which the Almond Conference covered the new AIM initiatives, specifically Sustainable Water Resources, was through a session about how almond growers can contribute to the sustainability of California water supplies by potentially recharging groundwater with winter floodwater in their almond orchards. Researchers that are completing trials out in the orchard showed attendees how this sustainable practice has the potential to be executed across California Almond orchards. Groundwater recharge might sound like "green" speak, but it's simply looking at how the industry can replenish the water supply and sustainability manage its use in the Central Valley. This is something that helps not only farmers, but the whole local community and the environment.
Throughout the three days of the conference, it was clear: sustainability and innovation are high priorities for the industry's leaders. And with a palpably positive and optimistic spirit, almond farmers, processors and other industry members returned home with new ideas and a fresh outlook for 2016.
---
1 Sustainable almond farming utilizes production practices that are economically viable and are based upon scientific research, common sense and a respect for the environment, neighbors and employees. The result is a plentiful, nutritious, safe food product.