Did you know that without bees and other pollinators like them, almonds – along with many of our other favorite foods – simply wouldn't exist? It's true.
Lakhy Sran, partner and second-generation farmer at the Fresno County-based Sran Family Orchards, knows how important a healthy bee population is to almonds and crops around the United States. We're proud to say he has been selected as this year's winner of the North American Pollinator Protection Campaign (NAPPC) - National Association of Conservation Districts (NACD) U.S. Farmer-Rancher Award.
The award was accepted by Jason Hickman, Grower Relations at Sran Family Orchards, on behalf of Sran last month at the 16th Annual NAPPC Conference.
Since Sran's family started growing almonds in 1987, they have worked to ensure a healthy environment for bees. Sran Family Orchards practices a variety of bee friendly farming techniques, including planting alternate forms of nutrition and habitat for bees. To date they have planted more than 10 linear miles of flowering hedgerows, filled with things like bottlebrush, rosemary, and manzanita, bordering their almond orchards. Another 15 miles are currently being planted.
In combination with the hedgerows, Sran plants blooming cover crops from Project Apis m., which include mixes of clovers, mustards, and vetch. They are good for the beekeepers who bring in thousands of hives every year for the largest managed pollination event on Earth – almond bloom. When bees have access to a salad bar of nutritious food after almond blossoms are spent, beekeepers can leave hives in the orchards and continue to build bee strength until it is time to move on to their next crop to pollinate.
Sran has also established bamboo hives for solitary bees scattered throughout the properties, and installed an innovative drip system for pollinators' year-round access to fresh water.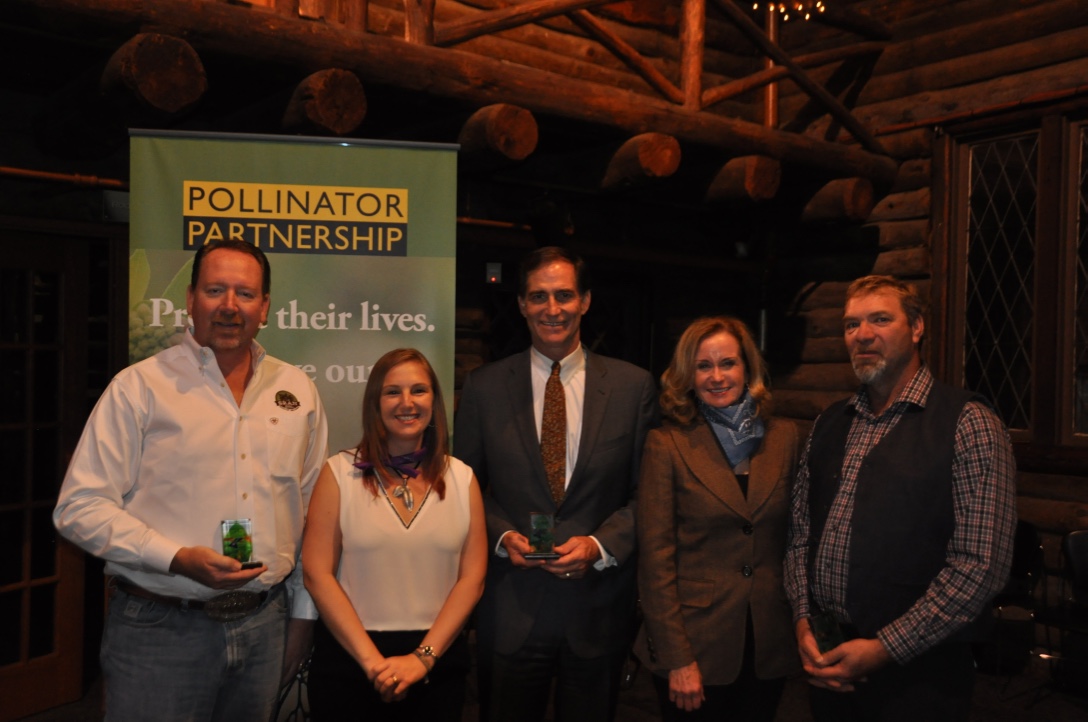 From left: Jason Hickman (Grower Relations, Sran Family Orchards), Dr. Vicki Wojcik (Research Director, Pollinator Partnership), Dan Ashe (Director, U.S. Fish and Wildlife Service), Laurie Davies Adams (Executive Director, Pollinator Partnership), Marc Bercier (Winner, Canada Farmer-Rancher Award)
California almond farmers including Sran, pay close attention to practices outlined in the "Honey Bee Best Management Practices (BMPs) for California Almonds." Based on research and developed by Almond Board of California, these BMPs provide simple, practical steps that almond growers and others involved in pollination can take to protect honey bees during bloom and beyond.
The NAPPC-NACD U.S. Farmer-Rancher Award recognizes people like Sran who have "contributed significantly to pollinator protection, conservation, and issue outreach resulting in increased awareness of the importance of pollinators and pollination within the agricultural community." Sran shares this honor this year with Canadian farmer-ranchers Marc and Chantal Bercier of Ferme Agriber Inc.