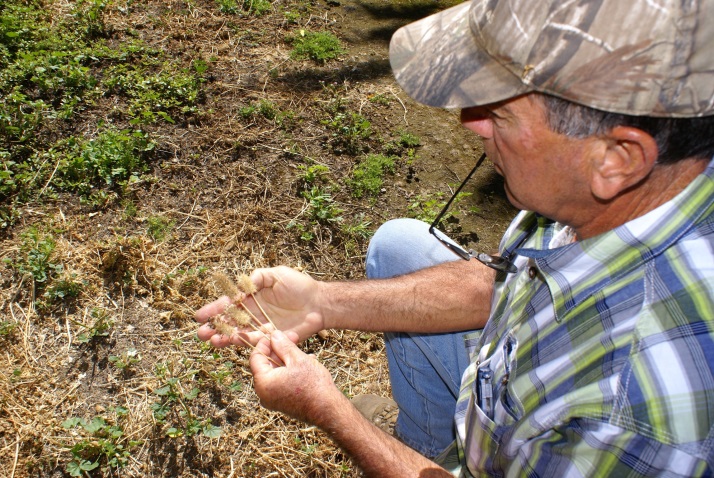 Almond grower Gino Favagrossa plants blooming seeds in the orchard to provide additional food source for bees after almond pollination, to enrich the soil with nutrients and improve the soil so water can better reach the tree roots.Across California's Central Valley, many almond growers plant blooming seeds in or near their orchards to keep bees happy, enrich the soil with nutrients and improve the soil so water can better reach tree roots.
Almond grower Gino Favagrossa says that planting clover in the middle of tree rows gives bees who don't move on to other pollinated crops an additional food source between almond pollination and the time hives start creating honey. Favagrossa plants a blend of five or six clovers on his 160 acre almond orchard west of Fresno.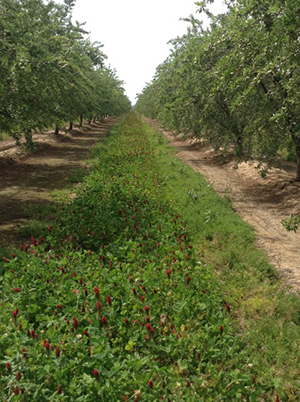 A mix of clovers planted in the middle of almond tree rows.Through Project Apis m., about 150 almond growers on 3,000 acres are experimenting with wildflower plantings and other blooming plants between rows of trees and next to almond orchards. The seed mixes require little moisture to grow and are specially blended including Lana vetch, a few varieties of mustard, which produce yellow flowers before almond bloom, and clover, which put out red, white or purple flowers after almond bloom.
As a third-generation farmer on Favagrossa Farms, Favagrossa started out planting crops like clover to enrich the soil and help water filter through it. Now with bees' health in mind, he uses seed blends that bloom longer.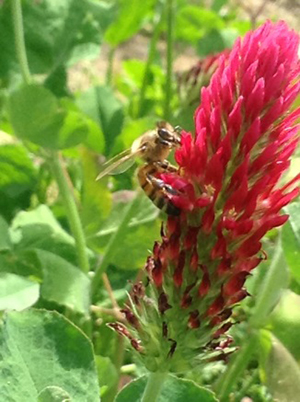 A honey bee enjoys pollen from one of Favagrossa's blooming plants.Honey bees are responsible for pollinating a third of the food that we eat. During pollination, almond blooms are the favored food for honey bees. Almond pollen is a high quality food source promoting hive health. In the times they're not pollinating almonds and other crops, honey bees need other nutrition. According to Favagrossa, when planted with blooming plants, the landscapes between tree rows and bordering almond orchards offer bees a buffet of pollen and nectar to keep them nourished.
Almond growers know that by working with other experts, they can achieve more. In addition to planting additional blooming plants, the almond community is focused on finding solutions in three other areas believed to have the most impact on honey bee health – Varroa mites that pass viruses and diseases, pesticides that can weaken bees, and genetics and breeding issues that leave bees more susceptible to the other hazards.