In our ABC Q&A series, we bring you brief interviews with some of the minds driving innovation at the Almond Board of California. We speak to a wide variety of folks who work here at the Almond Board, exploring topics from research, to conservation, to favorite almond recipes.
In this installment, we talked to Hannah Young who spent her summer interning at the Almond Board. She'll soon head back to Oklahoma State University, and we are predicting a bright future ahead!
What first interested you in joining the Almond Board?
I go to school out-of-state and I knew I would enjoy coming back to the Central Valley (my home!) for the summer to work in California agriculture. Though I knew very little about the Almond Board when I first applied for this internship, ABC stood out to me because I really like their social media presence. I love following their Instagram and other platforms for fun recipes, as well as informative articles.
I also felt that Industry Relations was the perfect fit for me as an intern; it combined the creative skills I've learned at school and my love for connecting with others in the agricultural community. Overall, the Almond Board was everything I was looking for in an internship this summer.
What is your day-to-day role at the Almond Board?
As an intern, my day-to-day varied quite a bit, which I enjoyed. Some days I traveled up and down the Valley with the Almond Leadership Program or giving Ag in the Classroom presentations. On others I was at headquarters in Modesto writing articles or creating flyers for various Almond Board events and programs.
What accomplishment from your time at the Almond Board are you most proud of?
I've worked on so many projects this summer that I'm proud of, but two stand out. The first is a promotional video I created for the Almond Leadership Program which involved interviewing current participants and mentors. I had never worked with video editing software before, so it took me out of my comfort zone which was both exciting and frustrating. It was also a project I started my first week on the job, so it's awesome, now that it is done, to see it come full circle.
I am also very proud of the flyer I have been working on for the Almond Leadership Program to recruit participants for the 2019 class. It was something I created from the ground up and it made me realize how much I have learned at both Oklahoma State and the Almond Board.
What's the most surprising thing you've learned in your time working here?
Since I came into this internship knowing very little about the Almond Board, I was most surprised about how diverse and widespread the organization is. Especially the amount of research that the Almond Board funds to inform farming and processing best practices and all of the marketing campaigns educating consumers and trade around the world about California Almonds.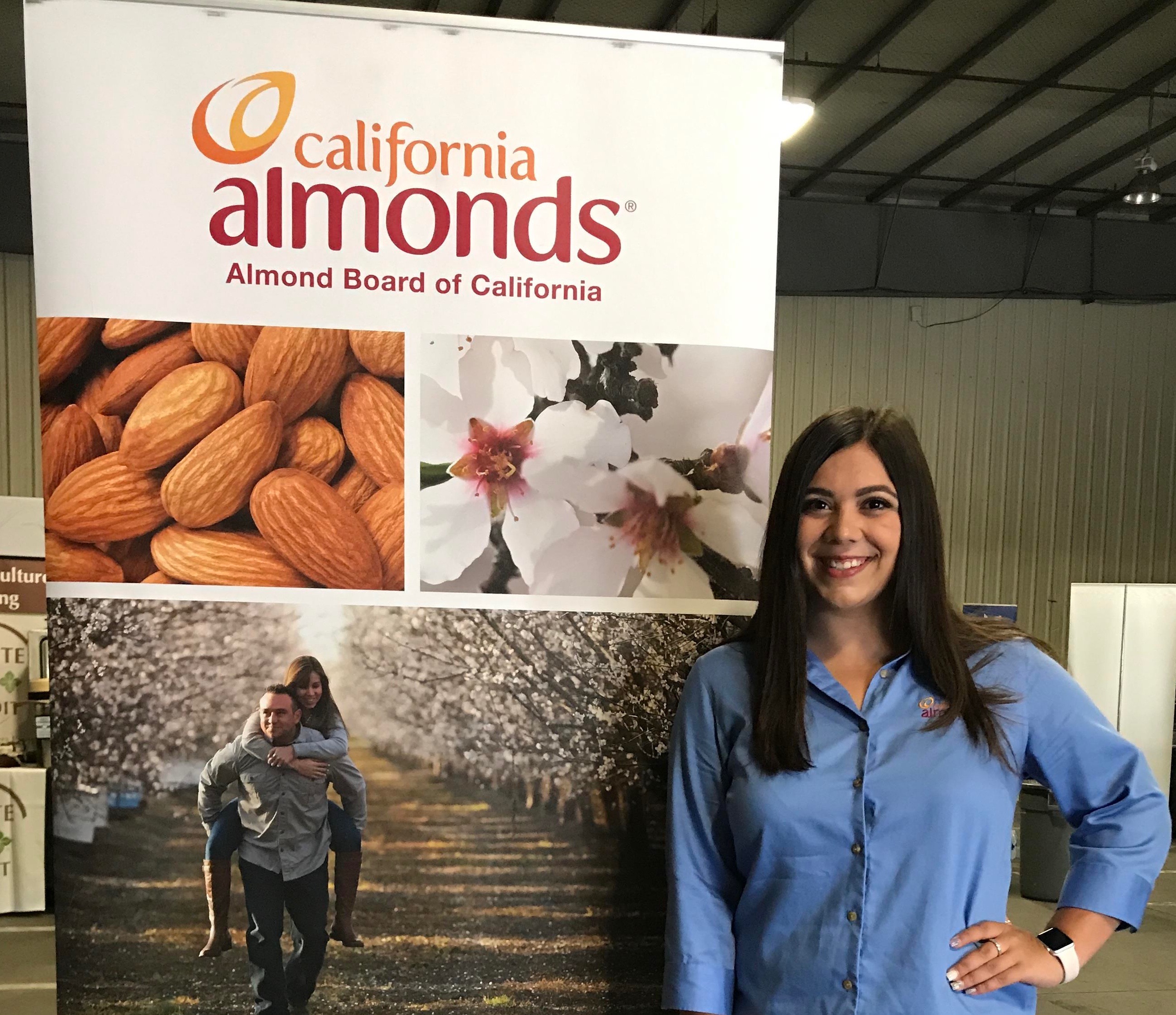 What is the most exciting thing you've done as part of your role?
The most exciting thing I have done through my internship was giving an Ag in the Classroom presentation in my hometown of Los Banos all on my own. It was almost surreal for me being able to go back and teach kids about agriculture, especially since I am not home very often. It was also very rewarding to be able to share the almond story on my own after learning so much about it and the industry during the last three months.
What's your favorite way to eat almonds?
With chocolate, of course! I am not a huge chocolate fan, but I love it with almonds.