Through an informational booth and speaking opportunities, Almond Board of California (ABC) represented the California almond community at last month's 2016 Farm Tank Summit. ABC CEO Richard Waycott spoke on the Food Business Panel with other industry experts including Nick Kastle (The Morning Star Company), Jennifer Maloney (Bayer CropScience), Matt Wadiak (Blue Apron), Soren Bjorn (Driscoll's), and Jon Bansen (Organic Valley). The panel was keynoted by John Church from General Mills, and moderated by Hsiao-Ching Chou from the Institute for Systems Biology.
"Sometimes industry size can get misinterpreted in many ways… We're 6,800 growers here in California, [and] in the Central Valley over 92% of them are family farms today. 75% of our growers are under 100 acres, so the industry appears large, and it does represent a significant part of the world's production, but behind that number it's still very much a family business."
- Richard Waycott, CEO, Almond Board of California
Click image below to watch the video of the full panel:
Image courtesy of Nicole Rogers, Instagram
Jenny Holtermann, Kern County almond farmer and blogger Almond Girl Jenny, also attended the Summit and found value in being there representing the almond community. She included her takeaways in a post on her blog:
"There are so many messages out there and so many people talking, it is hard to know what to believe. But by being engaged, having a seat at the table and connecting to others with non-like minds, farmers are telling our stories. I found it important to attend Farm Tank to have the opportunity to meet people I wouldn't otherwise and share what it's like to be a 4th generation California farmer. By starting the conversation and opening up to others, you will have the chance to make a difference."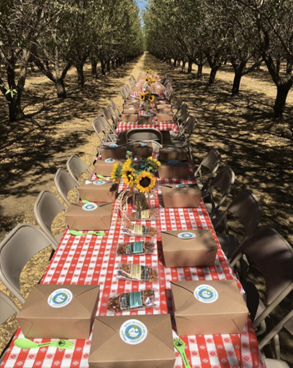 Image courtesy of Nicole Rogers, Instagram
During day two of Farm Tank, attendees chose between various tour options, including one entitled "Farmer for a Day." ABC helped organize this tour and we're grateful that almond farmer Matt Mariani was able to host attendees in his orchard where they learned about the almond life cycle and ate a delicious lunch, courtesy of The Green Boheme. Attendees then visited the Marniani Nut Company's hulling and shelling facility where they saw where almonds go after they are harvested from the orchard and the processing that ensues.
The Farm Tank Summit, hosted by Food Tank and Visit Sacramento, brought together a variety of people interested in improving the food system for the health of people, communities and the environment. Researchers, farmers, chefs, policy makers, government officials, entrepreneurs, activists and interested consumers came together for panels on topics including nourishing the planet, improving nutrient density, the future of organic farming, investing in the food movement, legislating change in the food system, conducting business sustainably and more.