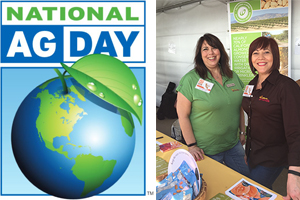 Almond Board at "Ag Day at the Capitol"California's 6,800 almond growers joined our state's more than 80,000 farms and ranches to mark National Ag Day on March 15, recognizing and celebrating all the contributions agriculture makes to American life.
This year's theme, "Agriculture: Stewards of a Healthy Planet," resonates strongly with the California almond community and underscores our longstanding commitment to sustainability leadership.
Almond Board of California (ABC) invests millions of dollars a year in comprehensive third- party research into innovations that conserve and revitalize our precious water supplies, improve air quality by reducing our carbon footprint, and accelerate advancements in 21st century agronomics. ABC had a a booth at "Ag Day at the Capitol" in Sacramento on March 16. Attending Ag Day at the Capitol is a wonderful way to bring awareness of the almond industry to elected officials and their staffs who tour the booths before they are opened to the public. The ABC provided information on water efficiency improvements, bee health and sustainability. Hundreds of almond snack packs were also given away.
National Ag Day is an important acknowledgement that farmers not only feed America but provide food exports across the globe. It's a particularly fitting day for California, which plays a central role in the nation's agriculture. Our state produces more than 400 different crops, including more than a third of the country's vegetables and nearly two-thirds of the country's fruits and nuts. We're also USA's leading agricultural exporter.
Almonds play an important part as the state's second most valuable commodity in total production value. The California almond community supports about 104,000 jobs statewide and adds about $11 billion dollars to the size of the state's total economy1. California farms and ranches generate 15 percent of the nation's national crop revenue. More than 90 percent are family operations, including 91 percent of almond farms1.
Almonds pack value in many ways. As a versatile ingredient and the perfect snack, almonds are ounce for ounce the highest tree nut in protein (6g), fiber, calcium (8% DV), vitamin E (35% DV), riboflavin (20% DV) and niacin (6% DV), and a top food source of magnesium (20% DV). Almonds have 6 grams of plant protein per ounce and are naturally gluten and dairy-free. We're committed to growing almonds in the most sustainable way possible and ensuring that California almonds remain a safe, high quality product .
Reflecting on National Ag Day is a perfect way to honor California's agricultural heritage and the progressive, research-based practices used by today's farmers. It's also a perfect opportunity to discuss the future of agriculture and examine the many ways it contributes to the well-being of our state.
When your travels take you past the farms and orchards of California, or when you're at the grocery store, or eating a meal, remember the vital role agriculture plays in your life. California farmers feed the nation and put Americans to work, and we work alongside our neighbors to overcome the challenges facing California.
---
1 University of California Agricultural Issues Center. The Economic Impacts of the California Almond Industry. December 2014.
2 USDA 2012 Census of Agriculture.