In December, the California Almond community gathered in Sacramento for the annual Almond Conference where hot topics in the industry were discussed. From bee health to marketing programs, sessions armed almond farmers and processors with information that will directly impact the decisions and activities in the orchard to benefit California Almonds for years to come.
Daniel Lubetzky, Founder and CEO of KIND Snacks, delivered one of the keynotes this year. In a conversation with Buddy Ketchner of K Strategies, Lubetzky discussed the importance of quality and transparency at KIND and how the almond community can help drive a healthier, more sustainable future.
We really value authenticity and transparency across marketing to internal operations, noted Lubetzky. "We try to encourage our team to have the courage to speak honestly and transparently with one another."
The California Almond community is incredibly proud to produce a healthy snack for people all over the world. While the health benefits of almonds1 have been researched and recognized for years, many people do not know that almonds are also a sustainable choice.2
California Almond farmers are committed to continuous improvement and embrace sustainability through decades resulting in innovative almond farming practices. Almond Board of California (ABC) has been investing in research since 1973 and, to continue to help farmers navigate complex challenges, this year Almond Board of California (ABC) invested $4.8 million in research supporting water sustainability, honey bee health, and innovative coproduct uses.
Like KIND, the California Almond community is committed to transparency in sharing how almonds are grown. Here are some "snackable" facts about almonds and sustainability:
Water Wise: Almost 80 percent of California Almond farmers use efficient microirrigation to water their almond trees, decreasing runoff, minimizing waste, and allowing for precise timing and rate of irrigation.3 This technology and other advancements have led almond farmers to reduce the amount of water needed to grow a pound of almonds by 33 percent since 1994.4
A Sweet Partnership: Almonds need bees and bees rely on almonds, too. ABC is a leader in the honey bee health conversation, funding more honey bee health research than any other crop group and working with universities, government agencies, nonprofits, and beekeeping groups alike.5 Farmers have widely adopted measures to ensure bees stay safe in their orchards too.
Minimizing Waste: Did you know that almond trees grow multiple products? In addition to the kernel that we eat, almond coproducts include the almond hull, which is used to feed dairy cows, and the shells, which are used as livestock bedding. Even the trees are recycled at the end of their productive lives to create alternative energy or to improve soil quality.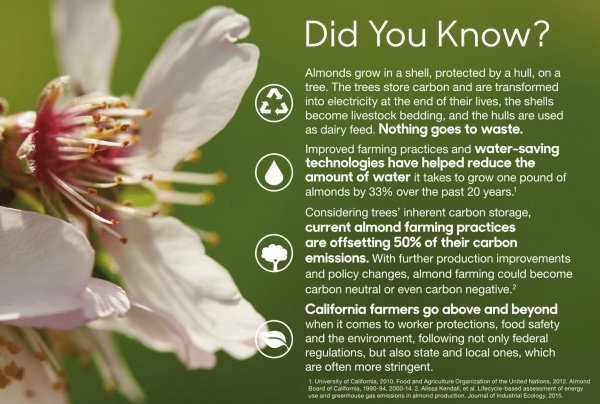 In closing his keynote, Lubetzky noted, "Almonds are a magical part of the human future." Between almond health benefits and sustainability efforts, we couldn't agree more!
---
1Scientific evidence suggests, but does not prove, that eating 1.5 ounces per day of most nuts, such as almonds, as part of a diet low in saturated fat and cholesterol may reduce the risk of heart disease. One serving of almonds (28g) has 13g of unsaturated fat and only 1g of saturated fat.
2Sustainable almond farming utilizes production practices that are economically viable and are based upon scientific research, common sense and a respect for the environment, neighbors and employees. The result is a plentiful, nutritious, safe food product.
3California Almond Sustainability Program. August 2017.
4University of California. UC Drought Management. Feb. 2010. Food and Agriculture Organization of the UN. FAO Irrigation and Drainage Paper 66 – Crop yield in response to water. 2012. Almond Board of California. Almond Almanac 1990-94, 2000-14.
5Gene Brandi. Vice President, American Beekeeping Federation.