More than 3,900 almond farmers, processors and community members met in Sacramento, California earlier this month for the 46th annual Almond Conference. Planned and hosted by the Almond Board of California (ABC), this year's event had record-breaking attendance numbers, 254 exhibitors and more than 50 educational sessions that provided the almond community with an opportunity to gain fresh knowledge, network with fellow community members, reflect on the recent harvest and prepare for the coming year.
"In today's fast-paced world it's a challenge to keep up with all the changes impacting the almond industry. Whether it's complying with new regulations, keeping up with best practices, or staying on top of the ever-changing trade environment, the list goes on and on," said Holly King, chair of the Almond Board. "This is the one event held each year that brings the industry together to discuss and learn about these topics, and work together to find solutions and propel the industry forward. It was great to see so many members of the almond community gathered in one place with the single-minded goal of advancing the industry."
Innovation and research were top of mind through the whole conference. Many speakers touched on the need for the almond community to get outside its comfort zone and push boundaries. David Deak, a disruptive innovator in the energy and tech space, demonstrated how rapid change forced the automotive and communications industries to advance at a pace that would change the course of history. Deak then challenged conference attendees to consider how that type of rapid change could push the almond community to greater heights, to improving at an accelerated pace and to continue setting the tone for California agriculture.
The Peterson Farm Brothers built upon that challenge as they spoke to almond community members about how they can, and should, be creative and open to sharing their farming stories with those in urban areas. The brothers -- Greg, Nathan and Kendal -- shared four of their top songs, including their latest parody of "California Love" -- "California Farms" -- which features a shout out to California almonds.
"The Peterson Farm Brothers reached a whole new audience with a positive message about agriculture," said Daren Williams, senior director of Global Communications at ABC. "Hearing their personal story along with live performances of their hit songs was both entertaining and inspiring."
At the conference, ABC also announced new vision and mission statements, this year's research funding numbers -- $6.8 million investment in 75 independent research across several priority areas, including water sustainability, pollinator health and finding new uses for almond coproducts – and the Almond Orchard 2025 Goals, focused on water efficiency, zero waste, pest management, and reduction of harvest dust.
The almond community was also hard at work this year! Through efforts including a silent and live action at The Almond Conference, and a golf tournament this past October, the 2018 Almond Leadership class raised over $36,000 for California FFA. Altogether, the Leadership program has now raised over $100,000 in scholarships for FFA students!
These announcements demonstrate the California almond community's commitment to continuous improvement and provide the foundation for the industry to grow and evolve into the future.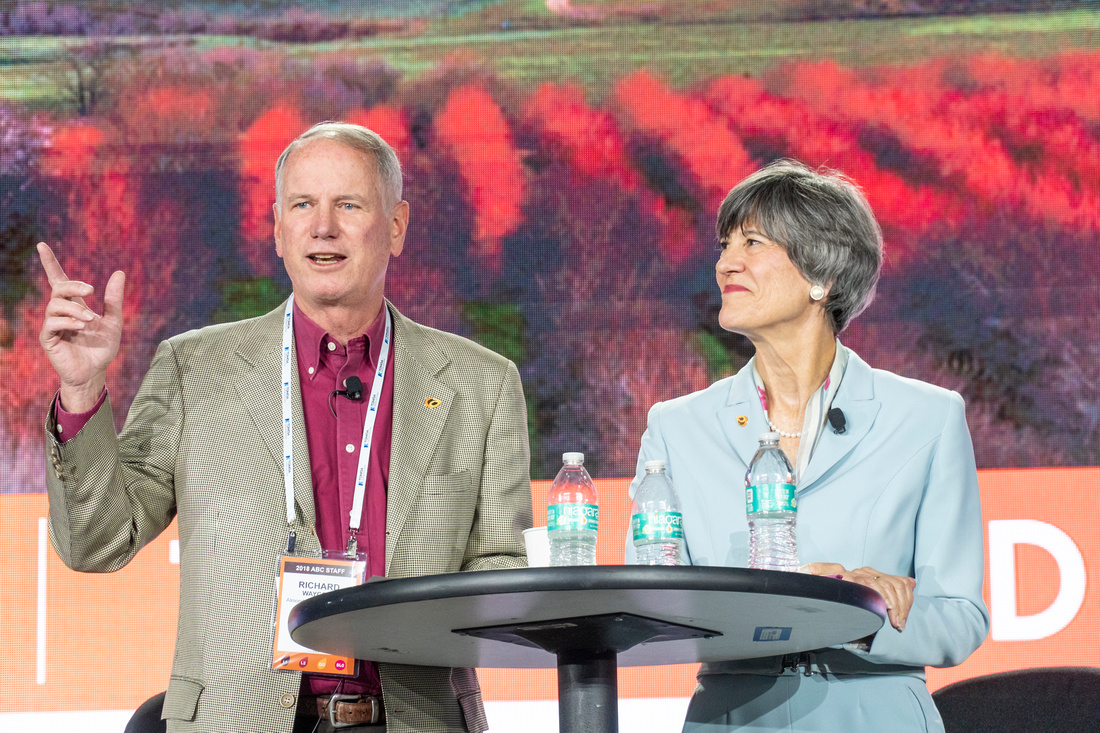 "When we look back over the past couple of decades, in terms of the growth of the industry, it's really been largely driven by repositioning almonds in the minds of consumers globally – we need to always be thinking about how to take almonds higher in the minds of our customers and consumers," said Richard Waycott, Almond Board president and CEO. "The new goals we have set are all there to improve our productivity and achieve our vision to make life better by not only what we grow, but how we grow."
All in all, it was an exciting year, and we have big plans for the future! Stay tuned.
For more information on the 2019 Almond Conference, December 10-12 at Cal Expo in Sacramento or if you're interested in sponsoring the 2019 event or hosting a booth, please contact Jenny Nicolau at jnicolau@almondboard.com.