Almond Board of California is celebrating its community by running occasional features on farmers, processors, and others who support the industry, highlighting their commitment to sustainability.1
It's no secret that a key to the California Almond community's continued success has been its willingness to adopt new practices and innovative technology.
A great example of this is the Turlock-based Cortez Growers Association who installed a solar array at their almond hulling and shelling facility.
When the almond crop is harvested, the almond kernels are still encased in a protective hull and shell. These are removed at facilities like Cortez Growers, where land availability is valuable for storing the stockpiles of materials until they can be transported after harvest for further use.
What's special about the Cortez Growers solar array is that it allows for extremely efficient use of their land, for greater overall sustainability.
Built atop an existing stormwater storage basin, Cortez Growers solar panels create 1.27 kWh/year – enough to power 74% of the plant's electricity (equivalent to 94 homes for a year). The water storage basin is meant to keep storm runoff from flooding the nearby fields and roads, and to protect the stockpiles of hulls and shells, which are reused as dairy feed and bedding.
Because the two components are integrated, "it uses the land in the most efficient way," said Chad Cummings, director of sales and marketing at JKB Energy of Turlock, the company that installed the solar panels at the facility. The array has also cut Cortez Growers' conventional power costs by about $110,000 a year since installation.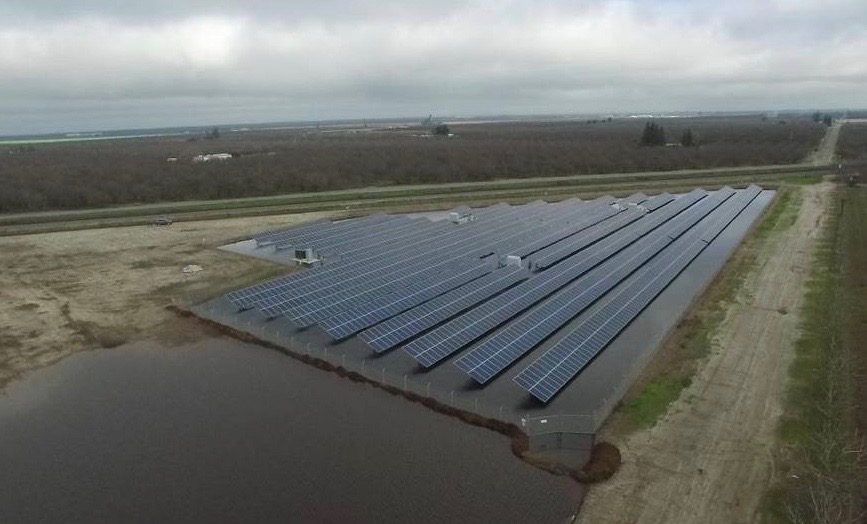 Photo source: JKB Energy
"It keeps our Turlock Irrigation District bill low, and doesn't get in the way of operations," said David Thiel, general manager of the Cortez Growers Association.
Solar is not unique to the Cortez Growers hulling and shelling facility, many almond farmers, hullers, shellers, and processors have made the investment in solar panels, producing clean energy for many years to come.
"When it comes to following sustainable agricultural practices, California Almond farmers and processors are progressive and continue to try new technologies," said Dr. Gabriele Ludwig, director for Sustainability and Environmental Affairs at Almond Board of California. "We're seeing a positive trend in the almond industry toward solar energy that, given California's abundant sunshine, we don't see letting up."
To learn more about Cortez Grower Association's commitment to sustainability through solar, see:
---
1California Almond Sustainability Program definition: Sustainable almond farming utilizes production practices that are economically viable and are based upon scientific research, common sense and a respect for the environment, neighbors and employees. The result is a plentiful, nutritious, safe food product.