Almond Board of California is celebrating its community by running occasional features on farmers, processors, and others who support the industry, highlighting their commitment to sustainability.1
As equipment rumbled, a group of California Almond farmers stood in an orchard in the San Joaquin Valley community of Manteca and listened to Dr. Brent Holtz as he described results of his ongoing research. Dr. Holtz has been assessing the risks and benefits of grinding and incorporating whole almond orchards into the soil at the end of their productive life.
Traditionally this material has been sent to cogeneration plants where it can be converted to energy. However, recent market shifts are forcing changes to that market. Prior to that, farmers often pulled out the trees and burned them or cut them for firewood.
Dr. Holtz, part of a multigenerational almond farming family, thought there had to be a better way. So as a graduate student in college he began initial recycling research at his family's almond orchard by chipping tree prunings and spreading them on the orchard floor to decompose. Since that trial, further research has proved its applicability to almond trees, and with the development of specialized equipment, chipping almond prunings has become standard practice for California Almond farmers.
Now as a University of California Cooperative Extension farm advisor, Dr. Holtz is looking into ways that almond farmers can remove entire orchards — not just the prunings — and return the woody biomass to the soil. His research is also investigating how this organic matter may contribute to the health and growth of trees planted in this soil. With cogeneration plants shutting down across California, incorporating the whole orchard back into the soil could be a great sustainable alternative.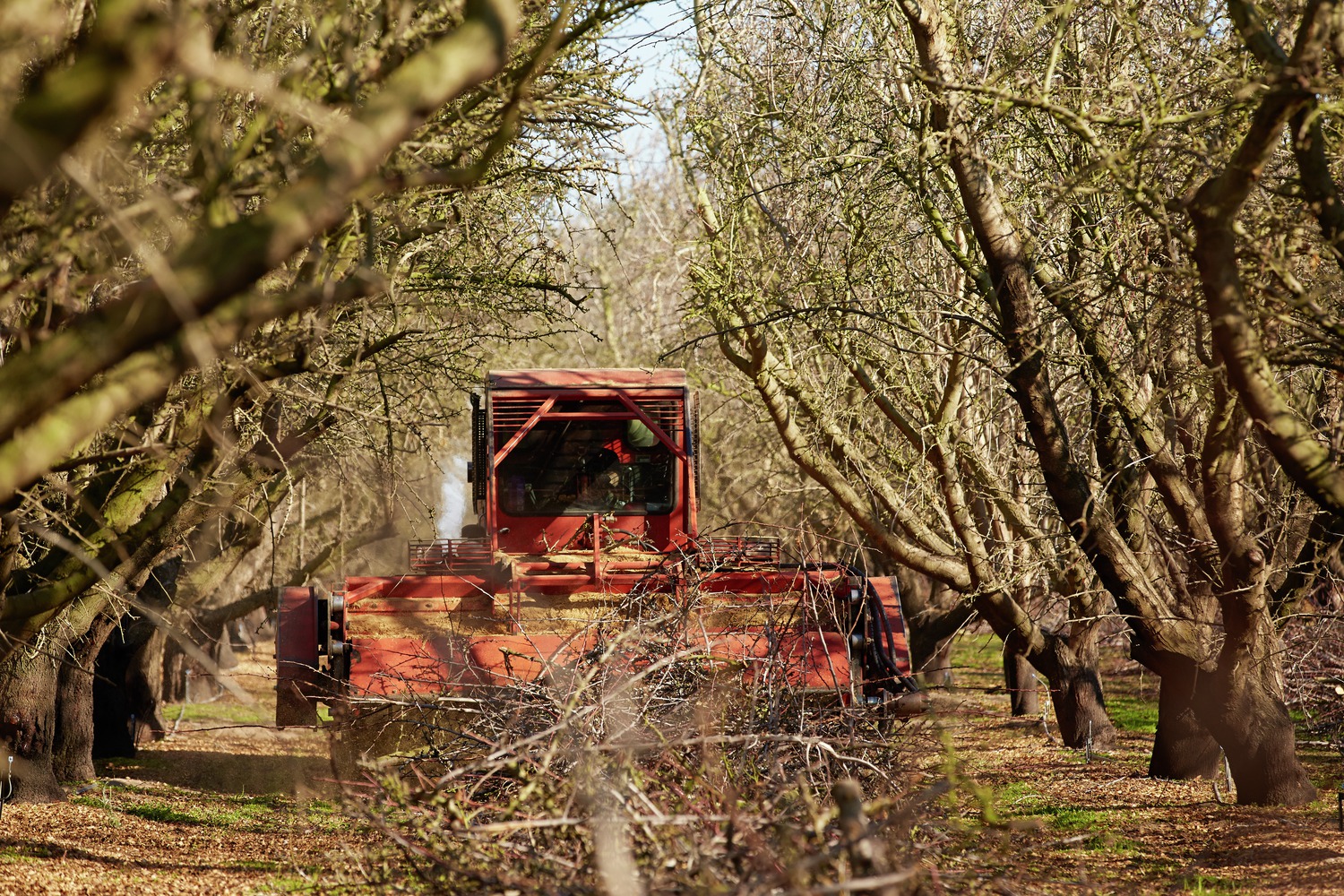 A Faster, Cheaper Alternative
In his first experiments in whole orchard recycling, Dr. Holtz used a large piece of equipment called The Iron Wolf, which single-handedly pulls the trees from the soil, grinds them up, and incorporates the woody material back into the soil. However, this process proved too slow and expensive. His revised research calls for five pieces of machinery – an excavator to uproot trees, a front-end loader to transport the trees to a horizontal chipper, and a spreader and rototiller that spread the chips on the ground and incorporate them into the soil. This combination of equipment has two distinct advantages over the previous machine — speed and cost.
Initial Research Findings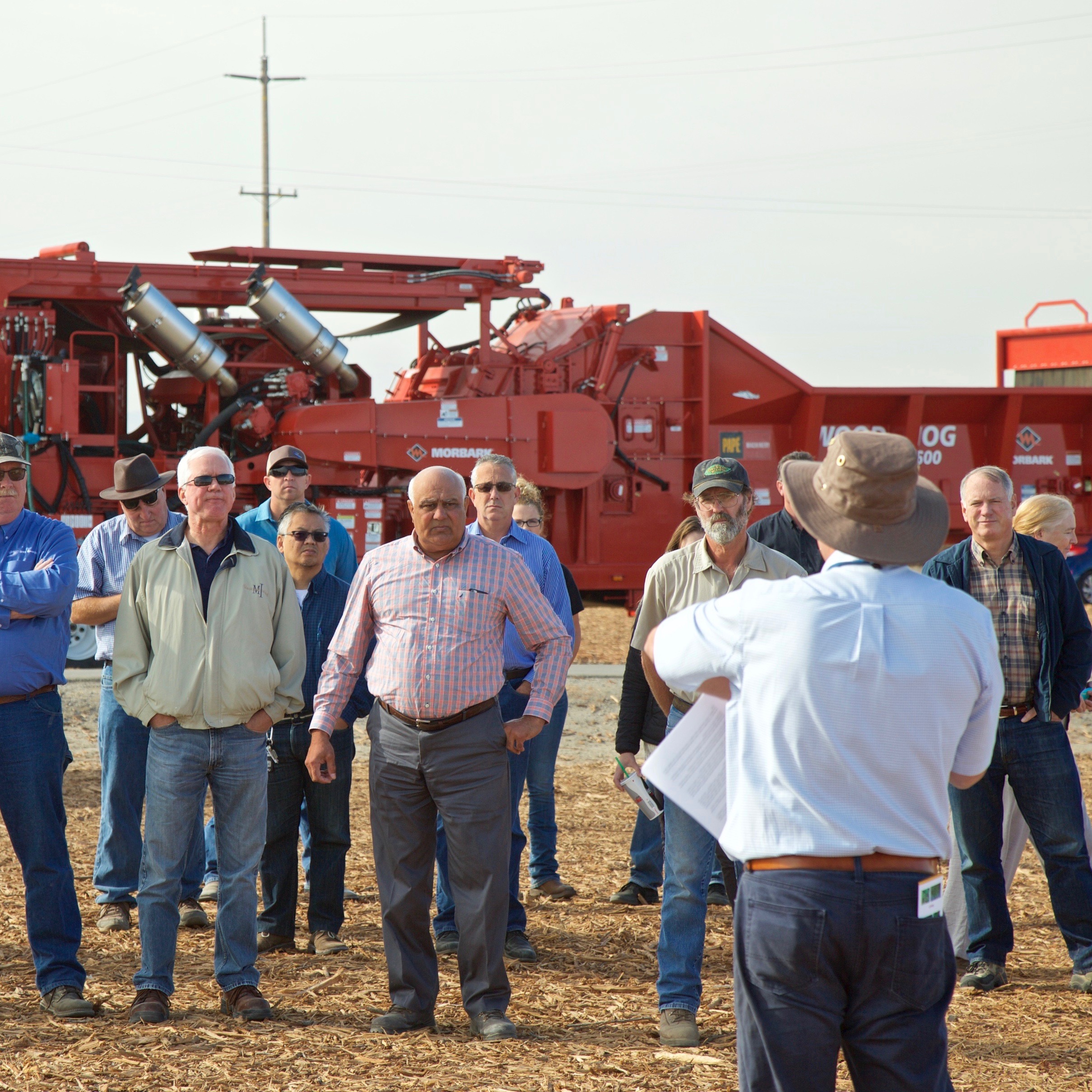 At the orchard recycling demonstration, Dr. Holtz shared some preliminary results from the research where new orchards had been planted in fields where old orchards had been recycled. Benefits included:
Improved water infiltration rates and water holding capacity

Increased soil nutrients

Increased crop yield
With the support of Almond Board of California, and a generous grant through USDA's Specialty Crop Block Grant Program, Dr. Holtz and his colleagues will continue to evaluate the short- and long-term impact of whole orchard recycling on the health and growth of second-generation trees planted in the orchard, soil health, the orchard's carbon footprint and nitrogen dynamics, and yield response to periods of reduced irrigation.
Get additional details about Dr. Holtz & whole orchard recycling
---
1California Almond Sustainability Program definition: Sustainable almond farming utilizes production practices that are economically viable and are based upon scientific research, common sense and a respect for the environment, neighbors and employees. The result is a plentiful, nutritious, safe food product.