There are several factors driving a growing interest in understanding environmental impacts and their economic implications. Consumers are increasingly becoming more interested in the environmental effects of their food choices, while manufacturers and retailers proactively plan for supply chain stability.

It is perhaps unsurprising then that Life Cycle Assessments (LCAs) were a hot topic at the recent International Union of Food Science and Technology's World Congress in Dublin, Ireland on Aug. 22-25.

At the Congress, several Californian crops, including almonds, were highlighted as examples of how LCA is being used by the food industry and policy makers in California and beyond as a tool for measuring trade-offs while balancing dietary and environmental needs.

In a presentation that was part of the Sustainable Resource Management for the Food Industry, Dr Karen Lapsley, Chief Scientific Officer at Almond Board of California catalogued the almond industry's water management journey so far, starting her presentation by contextualizing almonds' water usage when compared to other crops. In fact, most fruit and nut trees in California use about the same amount of water as almonds.1

Some have suggested that the shift toward higher value crops like nuts and wine grapes have led to an increase in agricultural water use but the reality according to the Department of Water Resources, is that the total amount of agricultural water has held steady since 2000 and actually declined over a longer period.2
Working directly with growers to document and improve their best practices is an important step for all crops. Dr Lapsely outlined the efforts the Almond Board has taken to accelerate the transition of growers up an irrigation improvement continuum with the adoption of increasingly water efficient irrigation management and scheduling tools, resulting in the maximization of 'crop per drop.'
Lapsley also called out a lesson the California almond community has learned from farmers in Israel where more than 80 percent of water used for agriculture is recycled. Taking inspiration from these practices, ABC has invested in exploring how best to leverage a unique strength of the industry -- its acreage -- for increasing groundwater recharge in aquifers, which collectively are California's largest water storage system.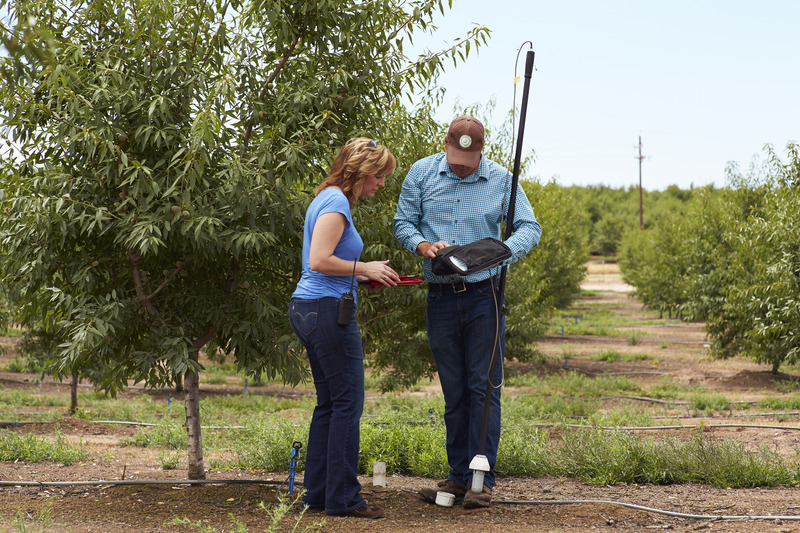 Hinting at what is next for the industry, Lapsley concluded her presentation by reinforcing the Almond Board's committed to investing in programs that will help drive development of innovative production solutions that lead to continued improvement in efficient and sustainable, environmentally responsible farming.3

Watch this space for news on updates to the Almond Board's LCA modeling research. Work is already underway to place greater emphasis on reusing co-products from producing and harvesting almonds as well as further exploration of surface and groundwater usage to make the almond community even more efficient and sustainable.
---
1Larry Schwankl, et al. Understanding your Orchard?s Water Requirements. University of California, Division of Agriculture and Natural Resources. Publication 8212. Feb. 2010.
2California Department of Water Resources. California Water Plan Update 2013: Volume 4. Feb. 2015.
3What defines California Almond sustainability? Sustainable almond farming utilizes production practices that are economically viable and are based upon scientific research, common sense and a respect for the environment, neighbors and employees. The result is a plentiful, nutritious, safe food product.