This post was written by Almond Board staff member Danielle Veenstra, part of a third-generation almond growing family located in San Joaquin County. Specializing in agricultural and environmental affairs and with a background in natural resource management, Danielle's grower perspective is valuable in her work at the Almond Board.
In my previous post I said that almond harvest is the most exciting part of growing almonds. But without question, the day that almonds are picked up and trucked out of the orchard is the single most rewarding day of the year and every grower's true test of success.
The day begins with the arrival of equipment – harvesters/pick-up machines, carts/shuttles, an elevator and trailers. All of this equipment and their operators work seamlessly together to bring in the crop.
Harvesters, also known as pick-up machines, pick up nuts by driving over the neat windrows previously created by sweeper machines.
Following directly behind the harvester is a cart or shuttle. Carts are pulled by tractors while shuttles are a custom vehicle specifically designed for this purpose. Almonds that are picked off the ground by the harvester are dropped into the cart or shuttle which, once full, transports them to the edge of the field where the next piece of equipment is waiting.
An elevator uses a conveyor belt to transport almonds from the cart or shuttle into a waiting semi-trailer. The cart or shuttle slowly dumps its load of almonds onto the moving conveyor and then returns to the orchard to hook back up to the harvester and take the next load.
Once the semi-truck trailers are full, the almonds travel to the grower's huller/sheller facility. Trailers belong to the huller/sheller so growers must schedule harvest activities around their availability.
Throughout each of these phases, growers and equipment operators take steps to ensure the quality of the crop and reduce harvest activity impacts to those who work, play, drive, and live nearby.
Based on industry-funded research and referenced in my prior blog post, tips and strategies for reducing dust during harvest have been extensively shared by the Almond Board. Through newsletter articles, ag media, workshops, and other outreach, growers and custom harvesters are reminded of ways to properly calibrate and operate equipment.
Based on these tips, our pick-up machine operators were sure to operate at 1.5 instead of 3 miles per hour which reduces the dust produced by over half. Additionally, we applied a dust suppression product to our yard where the almonds are picked up which reduces dust when carts bring almonds to the elevator.
When I asked my dad why these things are important to him and our orchard, his answer was two-fold. First, anything that he does in our orchard has impacts outside the orchard. To be a good grower, he needs to be a good neighbor. The second reason is more personal. Without being a responsible steward of the land and carefully balancing both economics and the environment, he won't be able to pass the business down to the next generation, just as his father did for him.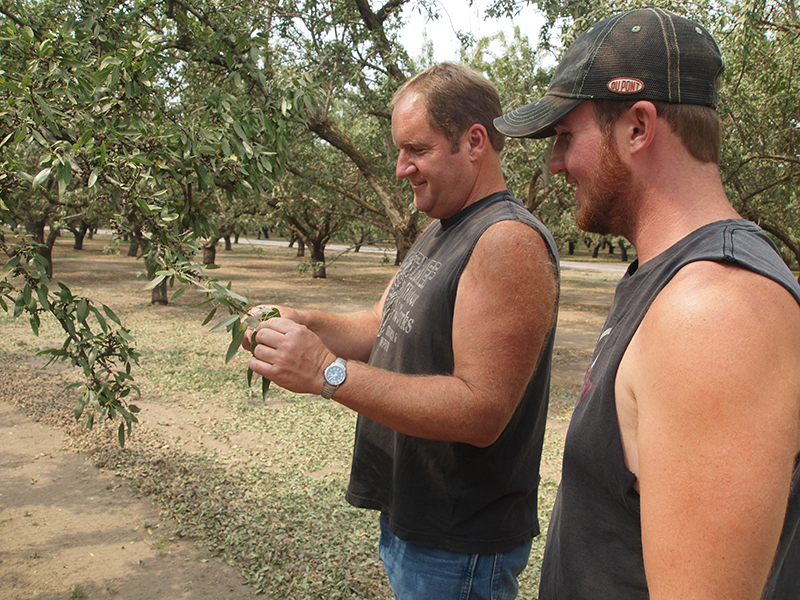 John and Derek Veenstra, second- and third-generation almond growers, understand that sustainability is key to success.
My family's story isn't unique. More than 90 percent of California's almond farms are family farms, many of which are owned and operated by third- and fourth-generation almond growers1. Without commitment to sustainability2, this succession wouldn't have been possible. And given the California Almond growing community's ongoing commitment to innovation, the future of this crop in California looks bright.
---
2 California Almond Sustainability Program definition: Sustainable almond farming utilizes production practices that are economically viable and are based upon scientific research, common sense and a respect for the environment, neighbors and employees. The result is a plentiful, nutritious, safe food product.