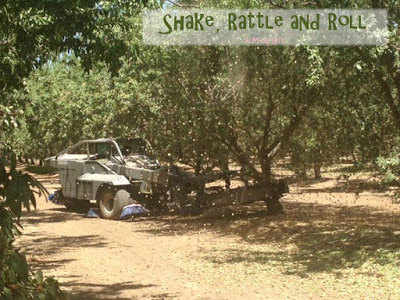 Click to EnlargeThis post was written by Kern County almond grower Jenny Holtermann and originally appeared on her blog, You Say All-mend, I Say Am-end on July 30, 2015. As described in the first post of this series, almond harvest timing varies across the Central Valley. So while Jenny's harvest started in late July, harvest may just be starting now for growers in other regions.
It's time to shake, rattle and roll on the farm! It's officially almond harvest time and that means we are busy, busy getting everything moving. We have waited all year for these next couple months. Although we don't have as much of a crop on the trees as we would like, we are happy to have a crop to be harvesting. With the drought this year, our trees are water stressed causing them to be early. Our crop is usually harvested beginning or middle of August and for the second year in a row we started July 28th! The trees are ready to go early because they haven't had enough water and it forced their crop to come off early.
On Monday, we started mowing the orchards clean of weeds and debris off the orchard floor. You need a clean floor for the nuts to have space to dry out. When we picked up the nuts, we don't want to pick up a lot of weeds or debris with them or else we get marked down at the huller.
On Tuesday, we started shaking! Shaking is the most exciting part of harvest for me. We get to watch the crop shake off the tree and make an almond blanket all over the floor. We started with Nonpareil, the earliest and most widely grown variety. We have the most acreage of this variety, so we will be shaking it for a while before we move on to the others. So if you wonder what we are up to on the farm, we will be shaking!!

Until Next Time,
Almond Girl