Almond Board of California is celebrating its community by running occasional features on farmers, processors, and others who support the industry, highlighting their commitment to sustainability.1
A native of Ripon, California, Dr. Ted DeJong's career started on his uncle's peach and almond farm. Like many others in agriculture, it was there, and at a young age, he realized that he wanted to be involved in the farming community.
His higher education experience spanned biology and ecology, from the University of California, Davis to the Smithsonian Institution in Washington, D.C. Through his second post-doctorate in the agronomy department at UC Davis and his job at University of California's Kearney Agriculture Center he began what would become a fruitful career of applying his horticultural expertise to agriculture.
In the 1980s, Dr. DeJong started working on tree development models in peaches and nectarines. Over the past decade and with funding from Almond Board of California, he focused specifically on almonds, developing a computer simulation of a virtual tree model. By looking at the integrated whole tree, rather than the sum of its parts, he was able to determine how the entire plant works together, what drives its growth and development, and what resources it requires.
By improving the way we understand almond tree growth, fruiting patterns, crop development, and yield over a season and for multiple years, Dr. DeJong has provided a solid, scientific foundation for best management practices and springboard for other research to better understand our orchards.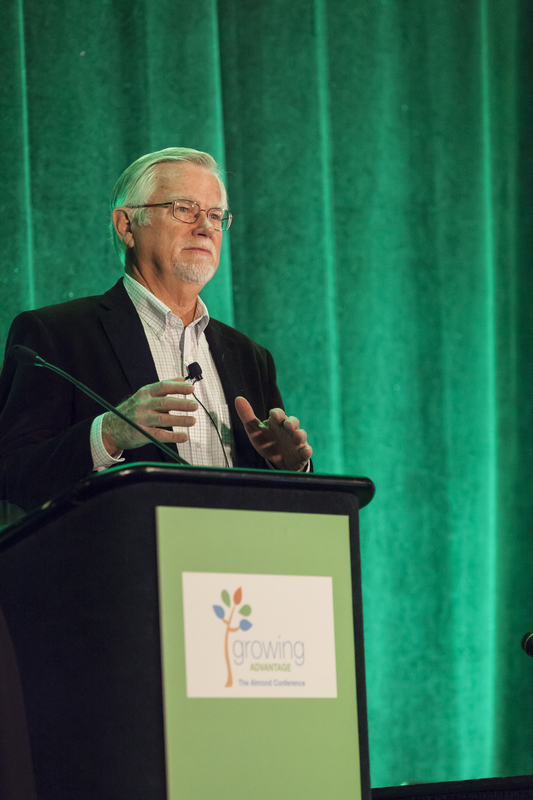 Dr. DeJong recently retired from his career as a professor and pomologist at UC Davis and specialist with UC Cooperative Extension. During his tenure at UC Davis, Dr. DeJong not only established a research program that continues to produce impactful, innovative solutions, but also supported the recruitment of research and extension experts to support California's specialty crops and those who farm them. Through his actions, Dr. DeJong's contributions will continue to move the California almond community into the future.
Learn more about Dr. DeJong's legacy by reading this article by the Almond Board's Bob Curtis, director of agricultural affairs, published in the Davis Enterprise.
---
1California Almond Sustainability Program definition: Sustainable almond farming utilizes production practices that are economically viable and are based upon scientific research, common sense and a respect for the environment, neighbors and employees. The result is a plentiful, nutritious, safe food product.