Weight Management
If you're watching your waistline, almonds may be the key to tipping the scales in your favor. They're simple to work into your diet and are a perfect fit for all types of eating plans.
WEIGHT MANAGEMENT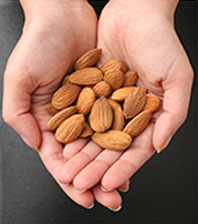 The Skinny on Fat
As much as we hate to face it, there is no quick fix for weight loss. Nope, no magic pill or 1-minute workout. In the real world, the not-so-secret secret to managing your waistline is an active lifestyle and a calorie-conscious diet of nutritious foods that can help stave off hunger and satisfy your cravings. Almonds happen to be one such food.
Almond benefits provide 4 grams of filling fiber, "good" monounsaturated fats, and 6 grams of protein to keep you feeling energized and satisfied.1
Almonds are considered a good fit with many popular weight-loss plans because they provide stellar satiety, plentiful nutrients per calorie, and great, go-with-every-food flavor and crunch.
What about calories in almonds? A 2012 study published in the American Journal of Clinical Nutrition found that a one-ounce serving of almonds (about 23 nuts) has just 129 calories as opposed to the previous count of 160. That's a 20% decrease.
Even better, almonds are also super simple to integrate into your diet. Just grab them as a great weight loss snack or make them part of a meal, and you could see the scales tip in your favor.
---
1. Good news about good fat: U.S. Dietary Guidelines recommend that the majority of your fat intake be unsaturated. One serving of almonds (28g) has 13g of unsaturated fat and only 1g of saturated fat.